Content Area
 Buy any French-style bed and automatically get 10% off any mattress (even Vispring Mattresses!) *
Explore our collection of beautiful French beds. All of our luxury beds and bed frames are handmade to the highest quality, for the utmost elegance, style and comfort. A French king size bed makes the perfect centrepiece to a boudoir, and our beds are also available in double, super king and emperor sizes to fit your bedroom.
Why not add some elegant finishes to a French upholstered bed with beautiful bed linen or sumptuous cushions?
How to make your beautiful French-style bed the very heart of your bedroom
When we style rooms and interiors for customers, or if we're planning a photoshoot, we always start with a French bed, and then add a chandelier. Next come timeless colours, indulgent accessories, and other inspiring and coordinating pieces of French style furniture that will complete the visual sensation. Finally, we add sumptuous bed linen, elegant cushions and soft rugs to lend a sprinkle of texture and comfort.
But the starting point is always that luxurious French bed. It's the main focal point; the masterpiece; that first stamp of luxury for your breathtaking bedroom.
If you are looking for a huge emperor bed, we are one of the UK's only retailers offering a range of beautiful designs.
Styling your bedroom with a Luxurious French bed
Think about which exquisite colour of bed linen will complement your gorgeous French-style bed or traditional rattan bed. White looks modern and chic with wooden or black beds, whilst luxurious linen in pink, pale grey or antique white will look timelessly elegant against our French upholstered beds, alluding to a more opulent and quintessentially French demeanour.
Whether you prefer the rococo swirls, silk upholstery and carved bed frames of full-on French style, or the contemporary, clean lines of button beds, you will find the beautiful bed of your dreams here at The French Bedroom Company.
We believe that a luxurious French-style bed is a prerequisite for any boudoir, where you can prepare yourself for the day and then relax, unwind and hibernate at the end of the night.
* 10% off mattress offer does not apply if paying by finance. Luxury Mattresses Vispring Mattresses Luxury Blankets & Bedspreads Luxury Duvets & Pillows
Why Choose A French bed?
Your bed is the centrepiece to your boudoir, so it's important to choose one that exudes elegance, sophistication and warmth. And that is exactly what our beautiful collection of French beds does.
In addition to our French-style bedroom furnishings, we've got a plethora of charming, opulent French beds in a variety of classic styles. Think antique Venetian, hand-carved wood frames, decadent materials, traditional French rattan, luxury silk, sumptuous velvet and painted French bed frames - all of which set a soothing and serene ambience in any bedroom. If you are looking for an vintage French bed, we perfectly capture the style.
Nowhere else will you find such a magnificent selection. All of our french style beds are curated by our exceptional team of in-house interior stylists and made by skilled master craftsmen, who have a strong and genuine passion for what they do.
Read More
Read Less
UK mattress sizes
Single Beds

90 x 190cm

(3'0" x 6'3")

Double Beds

135 x 190cm

(4'6" x 6'3")

King Size Beds

150 x 200cm

(5'0 x 6'6")

Superking French Beds

180 x 200cm

(6'0" x 6'6")

Large Emperor Beds

215 x 215cm

(7'0" x 7'0")
Stylist's tip
"A French Bed is the focal point of your bedroom - so make it a good one! It's your place of relaxation and refuge. With the exception of just one or two, our traditional, painted luxury wooden bed frames are hand carved from sustainable mahogany. Our gorgeous handmade luxury mattresses go perfectly with our traditional wooden bed frames to create comfy, classic upholstered beds that will look elegant for years to come."
"What I love about The French Bedroom Company is its unashamed femininity and the way the various pieces, such as the French upholstered beds, mirrors and chandeliers positively revel in their own glorious Marie Antoinette-ishness. They are also lifted out of the ordinary by a hint of quirkiness and originality that's reflected across the entire range of glamorous French beds and wooden bed frames."
About Luxury French Beds
Creating A French Bedroom
Intricately carved bed frames, ornate armoires and gorgeous floral linens are just some of the more obvious features associated with a French bedroom. French themed interior design is more than just a fleeting trend, it is truly a timeless classic and continues to add class and elegance for not only decades, but centuries.
Coming to prominence in the 18th century, French design earned its place in high end properties with elaborately mounted furnishings, often incorporating bronze and porcelain materials to create an undeniable high-class finish. Elaborate tapestries and linens softened boudoirs to combine luxury with comfort before extravagant beds were incorporated to create enviable style amongst those in high society.
In 2021, French style lives on not only in the bedroom, but throughout the home. Whilst trends in colour palettes may change and modern technology may be incorporated, the principles of French interior design live on, bringing unrivalled elegance to 21st century homes. Eye catching armoires, finished to perfection with intricate detailing, combined with centrepiece French beds is guaranteed to add a true sense of luxury to any home.
How to Style a Rattan Bed from The French Bedroom Company on Vimeo.
How to clean rattan furniture
If you've had your lovely new bed for a while, it's most likely time to do some spring cleaning! Here are our top tips for cleaning your gorgeous new rattan bed frame:
Once a fortnight, use your vacuum's brush attachment or any small brush with non-abrasive bristles to give the rattan bed head and foot boards a general clean. A soft brush will avoid any abrasion against the rattan.
To remove any stubborn soil, use a toothbrush or a similar fine tool. This will also need to be used to get between the rattan bed's tight weaves.
To keep your lovely new rattan bed in the best condition, once a month apply warm (not hot) soapy water to the frame without getting it too wet. Make sure you use a soft, clean cloth to gently remove marks, dust and dirt.
We would recommend avoiding washing your furniture on cooler days as it will take longer to dry out, which would in turn increase the risk of mould spores and damp appearing.
Be sure to follow these steps to maintain the beauty of your gorgeous new rattan bed frame. Bien dormir!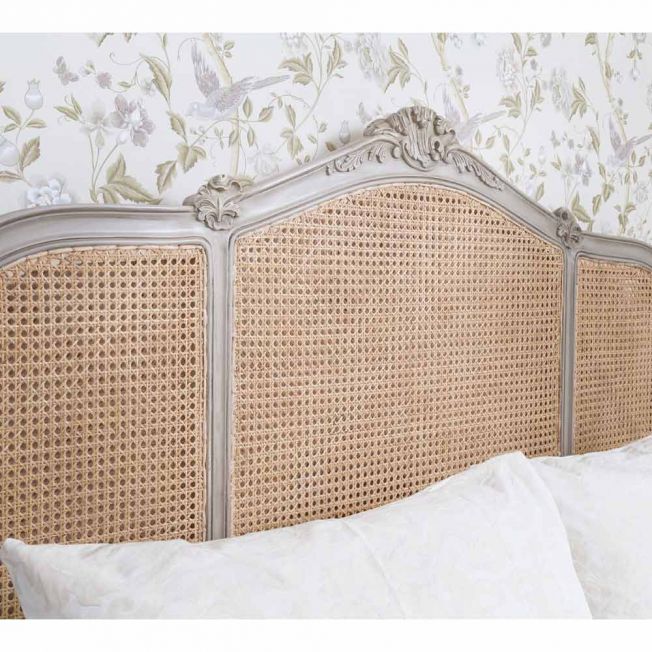 What is a French Bed?
Whilst there is no precise definition of a French bed, they do have many recurring features. You'll find intricately hand carved frames, immaculately tailored bed heads, eye catching four poster beds and luxurious, fit-for-royalty mattresses. Of course, size adds to the sense of luxury, too. French beds are often most spectacular when they're on the larger end of the scale – super king and emperor beds are no strangers to an unequivocally French boudoir
How to style a four-poster bed
Four-poster beds are the perfect way to elevate the status of any bedroom. These luxury beds exude opulence and can be styled to perfectly match your personality. Included below are our favourite ways to decorate your French bed frame to match your style:
To make your new four-poster bed totally Insta worthy, drape twinkling fairy lights, faux vines, and spring flowers. This beautiful style is akin to all the flamboyant shop and restaurant doorways lining the prettiest high streets of the UK.
Embrace your inner teen style and use bursts of colour across your statement four-poster bed. Neon pom poms with extra long 2 metre fringing are a perfect nod towards graffiti art.
Four-poster beds are the ultimate nod to romance. We picture a traditional four poster bed with draped voiles, lace panels and an open canopy. Pair this with pale tones and strings of ribbon in lace, frayed linen, and vintage silk for the most romantic night-time experience. You could even try hanging a chandelier through the top canopy and covering it gently with tulle for a diffused romantic evening light.
Who said a luxury French bed can't be modern? Leave your frame undecorated with bold colours on the bedspreads and statement cushions. Use natural textures and a minimal colour palette for fuss free styling!
Nothing shouts tradition like a four-poster bed. Replicate a 16th century castle with opulent fabrics and textures such as tapestries, velvets, and satins trimmed with gold rope tassels. Pure silk bed linen is a must to sleep like royalty!
Create a cosy space and layer faux throws with sheepskins and brushed cotton bed linen for a warm winter wonderland. Will you ever get to work on time? Tell your boss it's our fault!
Bring the holiday hues home with you and dress a white frame with other whites and shades of turquoise, paired with naturals and neutrals such as a jute rug, pure linen bed linen, and a wooden beaded chandelier. Ibiza vibes aren't just for summer.